Contact
CONTACT:JEFF GUAN
MOB:+86 15330893333
EMAIL: league@honestleague.com
CONTACT:ELVA JIANG
MOB:+86 15842555968
EMAIL:league@honestleague.com
CONTACT:CINDY
MOB:+86 18241579361
EMAIL:cindy@honestleague.com
CONTACT:NICOLE
MOB:+86 13009208958
EMAIL:nicole@honestleague.com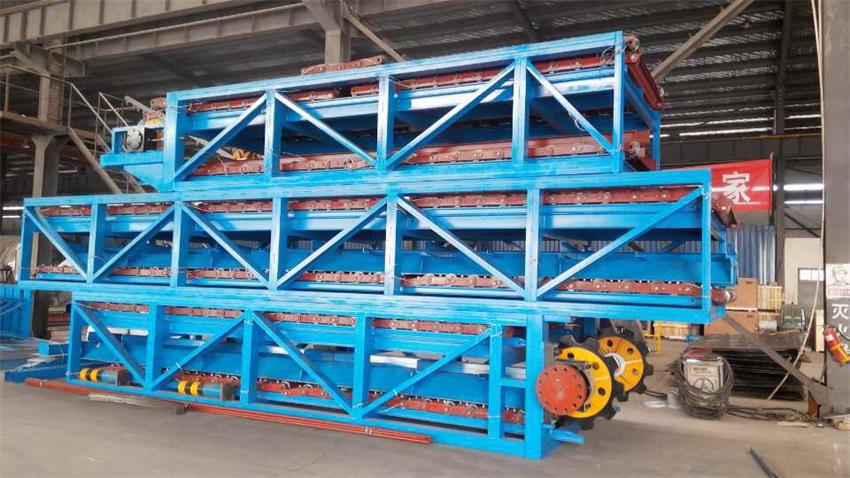 Chain Plate Conveyor
Brief Introduction
BFW series Chain Conveyor is mainly used to transport all kinds of bulk or bundle-like materials in the paper-making industry in a horizontal direction or inclination of less than 30°. It is often used to feed the waste paper and pulp board to pulper.
This Chain Conveyor has a reasonable structure, and the chain is used to drive the slot plate movement, thus transporting the materials. It has the advantages of great transmission capacity, low power consumption, small wear and reliable working. It is used in many paper mills in the whole country and has a good effect, and it is the most ideal equipment for delivering the waste paper and pulp board.
Features
1. The slot plate is the press forming plate with high strength and impact resistance;
2. The direct connection of the main shaft reducer and couplings is used for driving, making the force of the whole equipment more reasonable;
3. The side plate of the striker plate is the widened striker plate, increasing the throughput capacity and delivery capacity of the materials;
4. The chain is composed of the heavy chain pieces, heavy roller, oiling axis pin, heavy-duty, high wear-proof bushing and others;
5. The rail-mounted running is used for the rollaway nest, thus making waling steady and reliable, coefficient of friction lower and power consumption lower.
Technical Parameters
Model

BWF

BWF

BWF

BWF

BWF

BWF

BWF

BWF

Effective width (mm)

1200

1400

1600

1800

2000

2200

2400

2600

Feeding capacity (M³/H)

65-210

80-255

95-300

110-345

140-390

160-430

200-500

240-600

Delivering the materials

Pulp board

waste paper














Material min. size (mm)

1000

1200

1400

1600

1800

2000

2200

2400

Motor power (KW)

3-5.5

4-7.5

5.5-11

11-15

15-22

22-30

30-45

37-55

Remarks

Above parameters will be adjusted accordingly based on the different raw materials, final equipment technical parameter shall as per technical details